YAESU FT-101Z / FT-107 / FT-707 / FT-901 and FT-902
Counter IC: MSM9520RS Replacement Module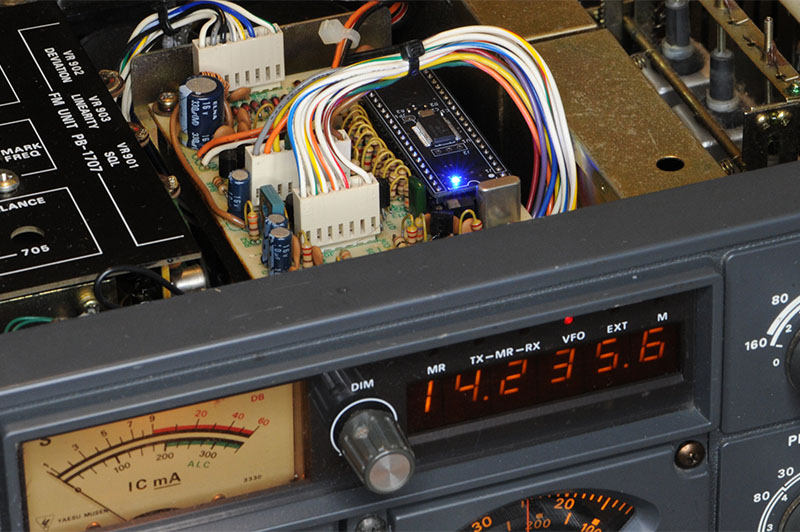 The new version of replacement module for MSM9520RS is available. The module is now offered as a completed and tested module and there is no need to modify the counter mother-board: PB-2086A, so the installation is much simpler and easier. A 20MHz-clock PIC MPU still guarantees fast-responding frequency readout, which results in very comfortable and smooth operation of your favorite YAESU.
"Pre-DSP/MPU era FT transceivers" from YAESU rely on a custom integrated circuit (IC), MSM9520RS for their frequency display function. For reason unknown, MSM9520RSs from early production lots definitively fail after certain period of operation. It has been almost 30 years since these FTs left the YAESU factory, many of the existing FTs have to retire only because of their frequency display failures.
This replacement module takes advantages of the flexibilities of MPU (PIC 16F883) to simulate the exact functionalities of MSM9520RS and extends the life of FTs, great masterpieces of analog circuit technology.
Applicable Models
The replacement module can be used for the following YAESU FT models. (Please note: Some early FT-101Z, FT-901 use a TTL-based frequency counter; MSM9520RS is not used. Check with your display board before ordering.) For FT-77, please contact me for applicability.
FT-101Z (MK1:16xxxx-, MK2, MK3)
FT-107
FT-707
FT-901/FT-902 (with PB-2086A board)

Font Option
There are 2 possible character shapes for displaying numeric "7" depending on the use of segment "f" in 7-segment LED display. The default shape used with this version of the replacement module is the same as the center, YAESU original: with segment 'f' lit. You can change it to the left shown by cutting the JP1 solder jumper on the top side of the module.
Ordering
Price: 3690 JPY (Shipping anywhere on the globe included. USD/EUR payment is possible through PayPal or Western Union.)
3 possible payment methods:
1) PayPal ( http://www.paypal.com/ : Credit Card payment is acceptable through PayPal.)
2) Western Union Money Transfer
3) International Postal Money Order

The module is shipped via registered airmail (in padded envelope) with header-pins for installation.

Support
Please contact Teruhiko Hayashi (JA2SVZ) by e-mail: thayashi@ta2.so-net.ne.jp to place order and for technical support.